My Only Regret Is That We Didn't Buy It Sooner
I have been meaning to write this product review since I first started this web site. There are a very limited group of products of which I can say that my only regret is the I didn't purchase the product sooner. In fact, I think I have said this about our Amby Baby Hammock Motion Bed, my Casio wristwatch with a built-in compass, my Sony PSP, our Baby Björn Travel Crib, and our Ergo Baby Carrier. I truly do regret that we did not purchase it before our son, my wife, and I had to suffer through all of those other carriers. I hope this ERGO Baby Carrier review helps spare you the same regret!
Suffering Through Other Carriers
Let me be frank with you, I strongly supported and drove the purchase of our Baby Björn Active/Sport. It was supposed to provide extra comfort and somehow bring about world peace. Instead of living up to any of our expectations it caused backaches, neck aches, overheated baby, pinched baby legs, sore skin around the legs and crotch (baby not me), and very long adjustment times for each time my wife and I wanted to switch wearing it. The only expectation that was met was that of the Baby Bjorn's high resale value. Fortunately, we were able to unload it for $20 less than what we paid for it new. I expect that our
Ergo Baby Carrier has a very high resale value
because the very few used ones we have found for sale have an asking price at just about 90% or higher of retail. This makes it an excellent and nearly risk-free investment.
We tried some less expensive slings too, sold by Target, when our son was an infant and those were just terrible for everyone involved. I should add that my petite wife, more than I (5'11', 165 pounds, me, not my wife), found the Baby Björn carrier to be extremely painful and not user friendly.
Web Research Revealed Rave Reviews of an Unknown Product/Company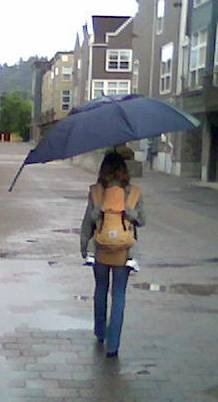 It was my wife who began to research the web (early fall 2007) and seek out a better alternative. What she found were great reviews spread around here and there of a product and company that we had never heard of. The product wasn't the cheapest (it seems to me that it was $92 USD at the time) nor did it seem to be marketed very much either, but it seems that it didn't need to be because it sold itself. The web site of the product's manufacturer did not have the latest and greatest bells and whistles (then, it is pretty cool now), but it did tell us which local stores we could visit in order to purchase their product. After a short confirming phone call, we jumped in the car and headed straight down there.
It was a small locally owned baby boutique that we had never before visited, but they stocked lots of different colors of this newly discovered baby carrier (the complete opposite of Babies R Us, Walmart, Target, etc.). We were also able to pull it out of the firm vinyl bag and test it out with Lex. They gave us a few pointers, but my wife more or less took over because she had watched some online videos already. The Ergo Baby Carrier came with an instructional DVD (which I watched later) which seemed only necessary for the side/hip mounted position (which we have NEVER used).
It Sold Itself, Love at First Use
We both immediately liked the Ergo Baby Carrier and my wife had already decided that she wanted the "camel/camel" color because from experience with other all cotton products she expected it would look the best over time, or rather that it would hide any color fading better than the darker colors available at the store (from use and washing). Now, looking back, I can tell that she was right; it still looks great 2 years later. I should point out here that the version we purchased is not the current generation of the Ergo Baby Carrier. I will point out the important distinctions below.
At this time, Lex was about 10 months old (about 24 pounds) and he fit perfectly in the carrier. The hood/headrest fit him perfectly too. When mounted in the front my wife would often sit down on the train without any problems or discomfort to her or Lex. Lex was comfortable enough that he began falling asleep in the carrier too (he couldn't in the Baby Bjorn any longer).
Which Is Best, Putting My Baby/Toddler in Front or in Back?
Back then and even up until now (almost 3 years old and 31 pounds) it has always seemed equally comfortable to mount Lex in the front or on the back of the ERGOBaby Carrier. Of course, getting him in the "backpack" position took more delicacy when he was younger and usually required another helper. Now, at age 2.8, I just grab both of his wrists with him standing in front of me facing away from me and I swing him around and up on my back. Its a collaboration between him and I that usually entertains curious on-lookers and the occasional good Samaritan who offers to help. Depending on his mood he may prefer to ride in the front, but usually the back is his choice and for walking, shopping, and even biking the back is the only way to go!
Comfort and Security, Enough to Fall Asleep
Lex stopped sleeping in public long ago, in fact, until recently his last nap outside of this crib (or portable crib) occurred in the ERGOBaby Carrier at Disneyland on Christmas 2007 with my wife (mounted in front). This spring during a walk in the desert, in the midst of a rather active adult conversation, Lex got tired and begged to be put in the carrier. I mounted him in front and he fell asleep immediately outside of his designated bed for the first time in 1.5 years. Since then, he has fallen asleep in the Ergo Baby Carrier almost every time he skips his nap and we go out for a bike ride.
Using the Ergo Baby Carrier in Lieu of a Bicycle Child's Seat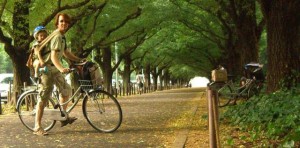 Yes, I ride my bike with Lex in the ERGOBaby Carrier, or just "carrier" as he calls it, in the backpack position (this is an entirely independent review and as far as I know ERGOBaby does not recommend this use, just to be clear). Lex wears a helmet and shoes and I put all kinds of flashing lights on the bike. Also I use the plastic D-shaped loops for the hood straps to hang a reflective sash/belt across the main back of the carrier.
After lots of testing, especially at slower speeds and uneven terrain I found that the Ergo Baby Carrier provided a superior solution for mounting a child on a bicycle. Rear and front-mounted child seats made the bicycle unstable at low speeds and provided my son with extra leverage to throw off the balance when he inevitable shifted his weight. Additionally, all of my research identified the most common cause of bicycle child seat accidents occurred when the bike was parked. Putting my toddler in the rear-mounted ErgoBaby Carrier solved both of these issues considerably. It also makes it easier for me to continue on my way without the bicycle if Lex falls asleep as he is already strapped to me.
Flaws, Downsides, or Negatives of the Ergo Baby Carrier
I am going to list in bullet form the downsides of the carrier and list how I think these have been addressed:
The buckle on the shoulder straps falls down all of the time. Our Ergo Baby Carrier is not the current version/generation. From what I can see, but have not yet tested, this flaw has been fixed in the current version being sold by most retailers. I highly recommend you ensure that you are buying the current generation before you put your money out for what I call a defect in design. Anyway, the buckles are on loops that can be adjusted up and down the shoulder straps so that they can be placed where they are most comfortable for you and your baby. This flexibility comes with a price, they can easily slide down off of the padded should straps and down to the adjustable strapping making them very hard to reach when you forgot to check them and you already initiated blast-off with your child.
The hood is too short.
While the hood was useful as both a head support and light blocker when Lex was a baby, it is now useless and has been for the past 1.5 years. His head now sticks out beyond its reach. It would be great it the length of the hood was adjustable or if it were removable. Right now all it does is make me want to cut if off when it inevitably falls out of the little pouch, drags on the floor, and catches on things. It is sometimes a safety hazard. I could not tell you if these issues with the hood have been addressed.
It is a bit spendy/pricey. This is true. It is nearly as expensive as some cheap cribs and car seats. Nevertheless, if you plan to use it even once every two weeks until your child weighs 40 pounds then you will get your money's worth. Nothing I have tried made me feel more like my son and I were as securely and naturally fastened together. Like I said, I use this on my bicycle even. Also, you could always put it on Craigslist or Ebay and get back most of your money, so this makes it a great bargain in fact.
Your child cannot face outwards. This is true and I think it is part of what make the design work. Comfort and security seem to be the requirements that ERGOBaby was working towards with this one. Maybe they should engineer a different outward facing front-mounted one. It might actually sell based on the reputation of the original, but I doubt it will be as comfortable and might actually harm the brand.
No product upgrade program. As you can tell by now, I really wish I had the latest model/version/generation of the Ergo Baby Carrier. It was NEVER worth waiting for, but I might spend a little more to upgrade mine if such an upgrade/trade-in program existed. Maybe I should Ebay ours and buy a newer replacement. Hmm…
Product Enhancement Wishlist
These are not flaws, but just a list of improvements or enhancements that I would like to see made to this already awesome product. Nothing is perfect after all.
Carrying case included: It would be great if the carrier could somehow be rolled up into a attached carrying case (perhaps an enhanced hood).

Reflective/Safety Version: As you can see in this photograph I have attached a reflective sash to my Ergo Baby Carrier in the D-shaped loops, there are only one of these in the current version so this safety hack wouldn't work without some sewing. Would it be better if ERGOBaby sold one that had reflective markings on the shoulder straps, back, and waist belt?
Conclusions
The Ergo Baby Carrier is truthfully a product with which my only regret is that I didn't buy it sooner. Every time I decide against taking it on a trip or I forget it, I regret that too. It crunches up small enough that it is quite portable and it is comfortable enough that often I just walk around alone with it on while my Toddler terrorizes the merchandise, wildlife, loose gravel, water puddles, grave stones, and smiling innocent bystanders. I hope you find this ERGOBaby Carrier review useful. My son weighs about 31 pounds and he still loves to ride in the carrier and even nap in it. I want him to keep growing, but I don't look forward to the day he can't ride in the ERGOBaby Carrier any more.