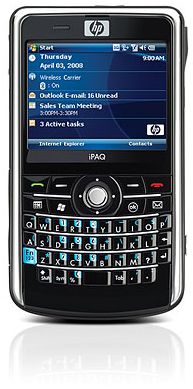 The iPAQ 910c suffers from a very serious identity crisis. It's a phone. No, it's pocket PC. Or maybe it's portable media player. Wait a minute, it's a GPS… Actually it's all this and more in very portable 5.4 ounce package. Some might call it a "iPhone Killer" or even an "HP Blackberry". I agree that it could steal away market share from those manufacturers, but I think that it will do so, not because one-ups their core features, but because it offers similar features on a very customizable platform. Try to get that from the iPAQ 910's competition without getting only half way before you void a warranty and violate your contract.
A Truly Unlocked Device
I can't tell you how much I love the fact that the iPAQ 910 includes all these great features in a completely unlocked package. I've had mine since they came out at the beginning of July 2008 and it automatically worked wonderfully with my T-Mobile Prepaid GSM SIM. I was immediately able to make and receive calls without any configuration. And better yet, I was able to send and receive text messages and emails as well. I don't have a wireless data plan associated with my phone service and I don't yet want one, but still I was able to use the full "QWERTY" keyboard to send messages without a hitch. Try doing that with a Blackberry!
However, placing any activated SIM card in the iPAQ 910 and being able to immediately make calls and send text messages is just a scratch on the surface of how unlocked this thing really is. I was able to immediately log on to my home's own Wi-Fi with wonderful signal strength. I body-surfed around on the Internet, no long-board surfing with this 2.46-inch diagonal QVGA screen (that's 320 x 240 pixels, spare yourself the Wikipedia lookup).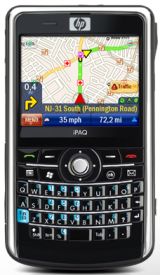 Real Pocket GPS Functionality
After my little surf I fired up the pre-installed Google Maps application to test out the GPS. Well, the maps worked great, satellite pictures and all, but the internal GPS could not detect any satellites from my living room sofa or even from the balcony. I kept trying, but had no success until I downloaded a updated GPS config file to the device and then went outside in the open. The suddenly the HP iPAQ 910 locked on to 8 GPS satellites. Of course, I didn't have a data plan and I was out of the range of my WiFi; so when it pinpointed my position and tried to scroll Google Maps the map got a bit screwy and threw an error. When I got closer to home and my Wi-Fi connection everything got great again! In fact now after that initial connection I am able to fire up the 910c, even after a restart, and connect to 3-4 satellites from my sofa.
Luckily, this is a Pocket PC running the latest version of Windows Mobile 6.1 and so I can solve my GPS mapping problem (because I don't have a data plan) and get real GPS turn-by-turn functionality by installing some real GPS software. I looked at a lot of different apps from $20 to $200. Ultimately I found that the best option was the same one that was discounted to HP customers, ALK's CoPilot Live 7 for $92 shipped (more on this software deal at this posting on FatWallet.com).
Truly Customizable
Remember that this device is still running Windows Mobile 6.1 so this means you can add all kinds of software to it: games, ebooks, enhanced media players, organizational applications, etc. I like to keep my scriptures handy so I legally added them free of charge using the YanCEyWare Reader application (don't worry Bryce Yancey your donation is on its way). I chose that reader because I new it could easily handle large volumes like the Old Testament that have choked the MS Reader in the past. Mr. Yancey makes many royalty free books, including the King James Bible free available on his site. Then the next app I installed is a free one called TCMCP (The Core Pocket Media Player). This is an awesome open-source software that is no longer actively being developed; however there are still a few good souls out there making it work with WM 6.1. Anyway, after following a few installation instructions for the latest software version and Flash Pack I was able to view pretty much any video file on my iPAQ 910 and also view any You Tube file. Truly Awesome.
Responsible Fatherhood?
So how do this wonderful gadget make me a better father? Easy:
it helps me be the hero when we are lost
it keeps me from having to ask for directions
it keeps all of my Outlook contacts and appointments at my fingertips; no more missing doctor's appointments or school events
it keeps me in touch with my world while on the go, making it possible to receive emails out at the beach (if I had a data plan or WiFi connection)
it entertains the little guy in a pinch; I've downloaded his favorite YouTube videos to my iPAQ 910c (yes TCMCP let's you do that!) for emergencies
it makes me feel just a little happier and on top of things, which certainly makes me a better daddy.
There is so much more that this device can do, such as receive voice commands and access/edit MS Office documents, but I am still scratching at the surface and looking forward to discovering them. While I'm still loving my HP iPAQ 910c I have found fault with the low speaker volume (regular and speaker phone) and the lag in shooting photographs (from button push to actual shutter click). But I have hopes that firmware updates or an inexpensive phone dialer will resolve these imperfections on an otherwise perfect device. (update note: I complained about not being able to assign different ringtones to different contacts, but now I found the setting in Outlook Contacts, its a field there)
Specifications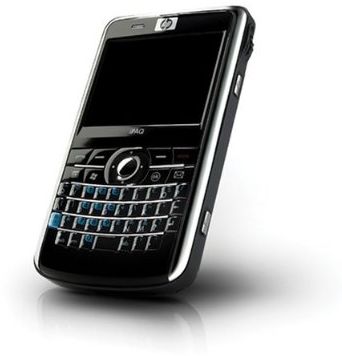 Here is the "short list" of specifications for your viewing pleasure, take that iPhone!:
3G wireless broadband connectivity for voice and data

Tri-band UMTS/HSDPA up to 7.2 Mbps (850/1900/2100 MHz)1
Quad-band GSM/GPRS/EDGE (850/900/1800/1900 MHz)1,2,3,4

Wireless LAN: IEEE 802.11 b/g with WPA2 security5
Bluetooth 2.0 with EDR1
Multi-mode GPS navigation
Windows Mobile® 6.1 Professional
Alphanumeric keyboard, scroll wheel, 5-way navigation, 2 soft keys,
and four quick access keys
2.46-inch 320×240 TFT color touch panel display
Dimensions/weight: 114 x 64 x 15 mm, 154 g
3 Megapixel auto focus camera
1940 mAh Li-Polymer battery
128MB SDRAM / 256MB Flash ROM
Micro-SD card slot
Mini-USB connector for charge/sync or headset
HP Voice Reply and Cyberon Voice Commander
If you want to view the full specs please visit HP's iPAQ 910's complete specification list.