Google Calendar Sync Still Works
Despite the deprecated status of the Google Calendar Sync tool, the tool still works fine with Outlook 2013/2010/2007.
Requirement: Sync My Outlook Calendar with my Android Phone
I am no stranger to Android; I've been running it on my HP Touchpad since Winter 2011. Back them I played around with many features including the utility that could sync my Outlook calendar with my Google account. Since that Android tablet can show the Google account's calendar, this sync meant that I could easily put all of my Outlook appointments on my Android phone. After the novelty wore off and my computer got replaced I forgot about this tool.
I recently purchased a nice phone running Google Android (Motorola's Moto X) and I got tired of adding my Google account to every meeting (as an attendee) just so that the event could appear on my phone. I remembered that I had once used a simple tool from Google which kept my Outlook calendar in sync with my Google/Android calendar. I tried searching for the utility and soon discovered that Google stopped supporting and distributing the tool in 2012. Google does offer a different utility called "Google Apps Sync for Microsoft Office (GASMO)"; however, you have to be a real paying Google Apps customer in order to use it. Also, many report that it messes up your Outlook profile. I learned both of these limitations the hard way: I installed it and was told that it wouldn't work with my free Google account and simultaneously my Outlook profile got messed with.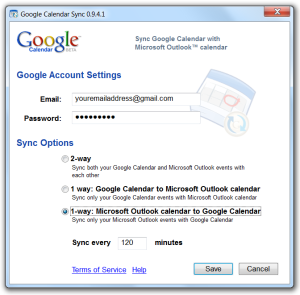 Solution: Install Google Calendar Sync where Outlook Runs
After investigating how I could possibly synchronize my Outlook calendar with the calendar on my Android phone I was shocked at the gaping functionality whole that I found. It seems that Google and Microsoft's disdain for each other has resulted in Google pulling support for the old Google Calendar Sync tool. It seems that they do provide a tool for synchronizing Apple's calendar with Google's calendar, but support for Outlook is blatantly missing.
Further research showed that a lot of people were still having luck with using the old Google Calendar Sync tool. I was afraid to download the copy that others were sharing, fearing someone might have embedded a virus or spyware in the installer, so I dug through my old backups and found the original file which I downloaded from Google directly many years ago. I installed it and it got straight to work with Outlook 2013. Now my calendar is completely in Sync. I let it sync about every 2 hours and only from Google to Outlook, but I am considering allowing Google calendar appointments to write themselves to Google. I highly recommend this tool to anyone wanting to get their Outlook appointments in their Google Calendar and/or on their Android Phone.

***************************
UPDATE July 8, 2014
I receive an email from Google today explaining that the party will be over on this starting August 1, 2014. Here is what they said:
Important Announcement about Google Calendar Sync
Almost two years ago, we announced that we ended support for Google Calendar Sync. Starting on August 1, 2014, this app will no longer sync events between your Google Calendar and Microsoft Outlook Calendar.

You can continue to access all of your Google Calendar events at calendar.google.com or on your mobile devices. Follow these instructions to uninstall Google Calendar Sync from your computer.

– The Calendar Team