In every place that I have lived or visited since Lex came into my life I have found great appreciation for the information I have received which helped me find new places and new ways to enjoy the location. Discovering these places with Lex has helped me see the location from a different perspective, often making an old place seem new again, like turning old stomping grounds into unexplored frontiers. Lex did this for me with Portland, Oregon and with Tokyo, Japan. In this article, I would like to help others enjoy and explore Tokyo with their toddler (or young child) and I invite all comments and suggestions that you may have on the topic.
Covering the Basics
You can't really enjoy anything until you met your child's basic needs. So let me break it down for you quickly:
Diapers: The cheapest place to get diapers is almost always at Toy's R Us. There are located Ikebukuro's Sunshine City, Kameido's Sun Street, Shimura San-Chome, or at least those are the ones I have been to. The ones at Sunshine City and Kameido are the best locations because there is plenty for your little one to do in the area. Toy's R Us usually posts the price per diaper, but calculate it, all of the pull-up brands they sell are great and perhaps the Genki brand are the best if you must have the best. Know your child's weight in Kilograms. "Big" is the size Lex wears as a toddler. FYI, any larger supermarket with a sale on diapers will probably have a good price too.
Wipes: I don't like Japanese brand wipes. Bring your favorite wipes if you can, if not get to a Costco. Otherwise, make do with the Japanese ones.
Changing Diapers: Diaper changing stations accessible to fathers are limited to very family-oriented places such as Toys-R-Us and Kameido SunStreet (see below for more info) and handicap bathrooms of upscale department stores. A good spy always knows his exits and a great parent always knows where to find a location to change stinky nappies. By the way, pack freezer Zip-Loc bags with you, because no one wants to smell your child's masterpiece.
Food and Drink: Toys-R-Us sells lots of feeding products, juice boxes, and formula (I think). American fast food can be found nearly everywhere, including in most convenience stores.
Miscellaneous:If your little darling is attached to a certain sippy cup, bring 3 or 4 backups. Otherwise feel confident that you will be able to find any other thing you need. Toys can be found at their lowest prices in Yodobashi Camera (Akihabara, a.k.a. Akiba) or for a little more at Toy's R Us. Bring a compass, or get one at a 100 Yen shop. North with me the Kanji highlighted in a different color. The compass will help you know which way to go when you will undoubtedly get confused (especially when taking subway trains). Get an ERGO baby carrier and keep it with you at all times for safety, comfort, and sanity.
Imperial Resident Park

View Larger Map
My son loved this park and I enjoyed it a lot as well.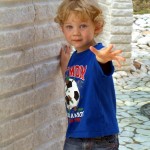 It has a lot of swings, a nice wooden play structure (off to the North side, watch out for the roller slide, a pinching hazard), a very nice and large granite rock wading fountain, a fenced/covered sandbox, and more. The park has a large sports practice field and even a basketball court too (as I recall). The park is quite spacious and generally a treat to visit.
Closest train station: Shinanomachi
Hiroo Park

View Larger Map
Just north of the Hiroo station, across from the National Azabu supermarket (lots of foreigners shop there for homeland favorites), there is a great park with a big pond, ducks, ancient style bridges, waterfalls, docks, great fall foliage, and lots of paths. There are no playground structures here, but the kid won't miss them.
Hiroo Playground

View Larger Map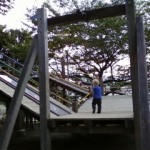 This is a nice playground just south of Roppongi and north of Hiroo. It sits west of the Kogai Elementary School on Gaien-nishi Dori. It has a large sandbox area and a very large wooden play structure with a zip line that can be fun for older kids.
Mita's Pirate Boat Playground

View Larger Map
It seems that all parks in Tokyo are unique, but this might be one of the most unique from a child's point of view. It has a wooden pirate boat buried in the sand and ready to be played with by imaginative buccaneers.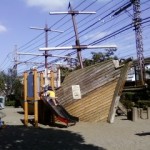 This park is literally hidden, but somehow it has been found by many locals. It is just South-East of the Mita subway station and it right along the unmissable JR lines that pass every minute or less. There is a fountain that runs during the day which is also quite unique and would be nice to run through on a hot day. Just under the JR rails to the south east of the park is a larger more spacious park with some different playground structures. Lex and I often hit one and then the other with every outing in this direction. If you have a bike or take Taxi then you can easily head north from here and hit the Hinode pier and take a nice boat ride too, making for a wonderful day out.

View Larger Map
Hinode Pier/Odaiba Seaside Park

View Larger Map
Hinode pier is not much to look at, but the water bus/cruise ride is amazing.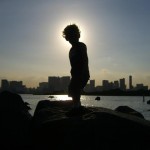 I recommend a round trip ticket to Odaiba Seaside Park where you leave in the morning or afternoon and return later at night under the lights and stars.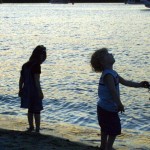 Sure you could get there on the Yurikamome line, if you do get the front seat if at all possible and your child will love it, but taking a water bus/cruise is so much nicer and not really much more expensive. My toddler loved playing at the Odaiba beach with the locals and getting lots of attention from the teens and twenty-somethings. The Ferris Wheel is a must see (very safe for children) and there is a fun, large children's store in Venus Fort (with Totoro's cat bus, fur and all). Of course, closer to the beach they have lots of arcades and other fun happenings.
Ikebukuro Sunshine City

View Larger Map
This is a huge indoor mall with some interesting destinations that toddlers and children in general can find quite interesting. My 3-year-old Lex loved exploring all of the different Cars in the Toyota Auto Salon Amlux. Even at his age, he enjoyed much of the very affordable indoor theme park called "Namco Namja Town" (link to some info). There is a planetarium and an aquarium but we never made to either. Read more about it here. There is a Toys R Us (way in the back) here and some good deals can be found on clothing too in some of the other stores, especially if they are selling clothes in the kiosk areas. Tokyo Disney tickets can be bought here too, but not sure what the benefit is to buying them there.