PLEASE NOTE: If you haven't yet read the first part of the Article (part 1 of 2) then I highly recommend that you start there first.
The following is a continuation of the lit of places that I have enjoyed in Tokyo with my 3-year-old son and I highly recommend that you and your toddler, pre-schooler, or older child explore them together.
Kameido Sun Street

View Larger Map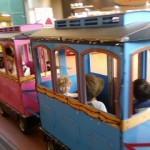 Sun Street Kameido (link) is a swirling cluster of mall stores generally geared towards children and parents. On the weekends they have a train for the kids. Towards the back there is a big slide and in the middle there are often free concerts and games for the kids. They have a great pet store, Sizzler, a grocery store, homegoods oriented Daiso (100 Yen store chain), a nice 300 Yen store, a store with affordable kids and mother's clothing, lots of coin operated rides, etc. My son generally loved going there. There is a Toys R Us, probably the largest one in the area. If you want to get a feel for
Shinjuku Times Square

View Larger Map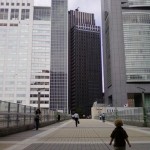 The satellite view of this area is a bit scary, but my son loved exploring all of the different views from the ground as well as the views from the top of the Takashimaya department store (east side looking out over Tokyo) and from the Hotel Restaurant floor (18?) just west of Francfranc. Krispy Kreme is just north of Francfranc and he loved that place (especially the free donuts given while in line). The Christmas lights here are amazing. It is fun to watch the trains below. There is a big bookstore with lots of kids books just south of Tokyu Hands. The Takashimaya department store has lots of fun toys out to play with and there is a small park and fountain on 12th or 13th floor.
Shinjuku Station Department Stores

View Larger Map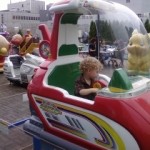 Many of the department stores in Tokyo are wonderful for two reasons: they have handicap bathrooms with wonder changing tables and they have great toys that your children can play with. Our favorite department stores where Tokyu (Shibuya), Odakyu (Shinjuku), Keiyo (Shinjuku), Takashimaya (Shinjuku), and any other department store with Bornelund store. If you are looking to purchase any Japanese toys and you want the best deal I would head to Yodobashi Camera in Akihabara for the very best prices and Toys-R-Us for almost as good a deal. In most cases, your child will enjoy Toys-R-Us and their surrounding locations much more.
NHK Studio Park / Yoyogi Park / Meiji Jingu Shrine

View Larger Map
A northern walk from Shibuya, or a quick jump on a "Hachiko" bus from the station will bring you to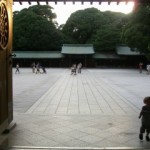 the NHK Studio park. This national television station has created a theme park which shares a little of their world with the public. I have been twice and I can say that my toddler enjoyed it as much as I did. Just to the north of the NHK studios begins a long, wide sidewalk that leads you to Yoyogi Park. This park is pretty good. Very big, lots of paved trails, lots of trees, lot of grassy areas, lots of benches, lots of ponds. My son really enjoyed this one, and it is just the prelude to the must-see Meiji Jingu Shrine. Bring an ERGO baby carrier, or an off-road stroller for that hike.
Ginza, Clocks and Sony Building

View Larger Map
The Sony Building may be quite interesting to some children. My toddler loved the annual aquarium event (Early August).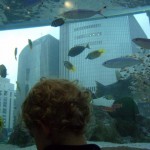 He also enjoyed exploring the first few floors and watching a movie up on the top floor. The Yurakucho station is interesting and you can find a Krispy Kreme in one of the small underground malls. There are some great clocks in Ginza and some are animated in the afternoon (I forget which hour, its either 4, 5, or 6 PM).
Roppongi Hills Park

View Larger Map
The park behind the Roppongi Hills buildings is interesting. It has a slide that is sort of like a pyramid and swings that are safe for very young toddlers. There is a pond here and a basketball court. The inside of the main building (the mall) is interesting as well. If you go to the basement you might be able to find those $100 mangoes, grapes, and $300 square watermelons. In the passageway/breezeway there are lots of free cultural events; look for announcements and plan a return at night.
Tokyo Tower

View Larger Map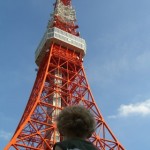 My son loved the "bounce house" up on the 3rd or 4th floor called "Nipponland" (as I recall). Entrance fee covers the first 30 minutes and then you pay a little for each additional 10 minutes. They have a pool of plastic balls, lots of bouncing, annoying blaring music, and those huge soft blocks. The roof of the building under the tower has a kiddie amusement park (a bit better than those found on top of some department stores).
Hibiya Park

View Larger Map
This park is near the Imperial Gardens and very much in the middle of Tokyo. It has a nice hill to climb, and Liberty Bell replica that was given to Japan, and some of the best swings in Tokyo. The park really helps balance out the more crowded parts of Tokyo with its spaciousness. The concrete animals are an interesting feature.
Closest Stations: Kasumigaseki and Hibiya
Tokyo Metropolitan Children's Hall (Tokyo-To Jido Kaikan)

View Larger Map

In the area between Shibuya and Omotesando stations there are two large buildings dedicated to children and the exploration of their world. One is called "The Children's Hall" and the other is called "The Children's Castle". The Children's Hall is free and, having visited both I, it may be just as good or even better depending on your child's interests.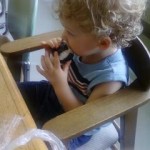 The Children's Castle seems to receive more Japanese children, but my son and I always felt very welcome exploring all of the different rooms and stations. We enjoyed the play room of course (indoor playground, toy trains, etc.), loved the music room, learned in the art room, romped around on the roof, built cool wood projects in the basement, ate delicious onigiri in the cafeteria, and loved discovering all of the rest of the games. It can get crowded in the afternoons, but in the mornings you will have the place to yourself and be welcomed by the warm smiles on the women and security guard at the front door.
Closest Station: Shibuya, exit 13a. If you are exploring Shibuya on the surface the easiest way to find The Children's Hall is to located Tower Records (big yellow and red building) and then head east on the road on it north side. Go under the JR tracks and after you pass Meiji-Dori, pass the "cocoti" store, and head up the hill just a little a ways, you will see The Children Hall on your left.
Helpful Online Resources